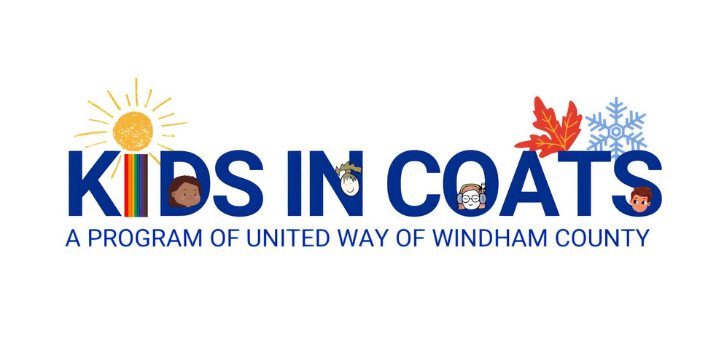 What is Kids in Coats?
Kids in Coats was started after the Reformer Christmas Stocking program ended in 2015. Kids in Coats, a program of United Way of Windham County, provides an essential service to families in Windham County by providing access to warm winter gear for children. New and gently-used winter outerwear such as coats, hats, mittens, pants, socks, and scarves help ensure that children are kept safe, comfortable, and can feel confident. The Kids in Coats fund serves eligible families with children from age 0 to grade 6. 
How do families receive assistance? 
100% of the Kids in Coats fund is split between the Windham County Supervisory Unions each winter. The money is sent to Supervisory Unions so they can work directly with families to determine the most effective approach to allocate the funds. At this time there is no application process.
How much money has been raised and distributed in total?
Since its start, because of the community's incredible support, we have distributed a total of over $130,000 to hundreds of families in Windham County. The Kids in Coats fund relies on donations from the community.
In 2022, we distributed $15,000 back to the community. We estimate that the community's need for winter clothing surpasses this amount, so we so greatly appreciate everyone who has gifted to this point.
The 2023 fundraising goal
Our current goal is to reach $10,000, if not $15,000. The fund is currently at $9,000+, and we are very gracious to the community for all of the donations to this point. The more money that we can raise, the more of an impact we will be able to make on a greater number of families. 
How can I donate?
You can donate online, by check or cash, or call us at 802-257-4011. 
THANK YOU TO THE COMMUNITY FOR CONTI

NUOUSLY SUPPORTING KIDS IN COATS AND OUR MISSION.
Our communities are wonderfully connected and interdependent. Please join us as we work to respond to the needs of children in Windham County. We can't do this work without supporters like you, and we are, as always, grateful to all of our donors, partners, and community members who help us to rebuild our communities into the strong, vibrant, and equitable places they need to be. If you have questions about Kids in Coats, please email us at info@unitedwaywindham.org or call 802-257-4011.