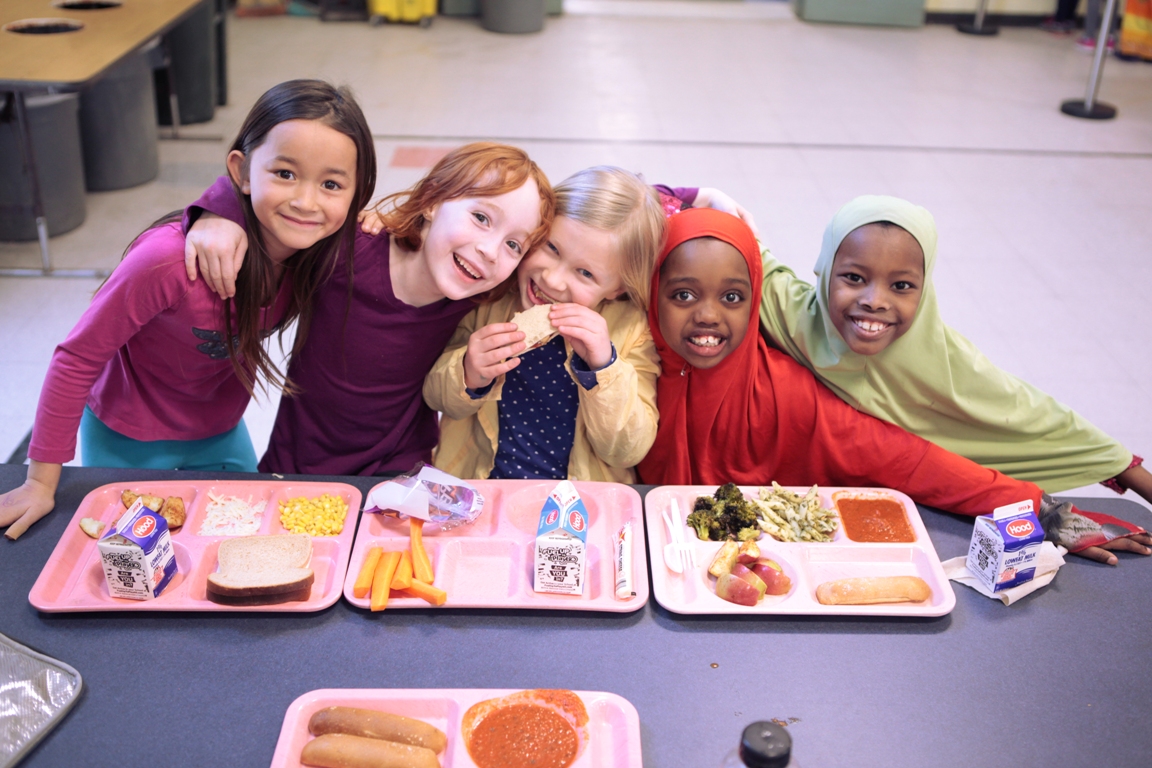 Burlington-area elementary school students enjoy free lunch as part of their school's participation in a universal free school meal program. Photo courtesy of Hunger Free Vermont.
Vermont Business Magazine As families shop for last-minute ingredients to complete their Thanksgiving feasts, a recent study by the University of Vermont and Hunger Free Vermont serves as a reminder that the grocery store is a pressure point for nearly 60,000 Vermonters who are food insecure. According to Hunger Free Vermont, a nonprofit organization that seeks to eliminate hunger and malnutrition in the state, food insecurity and hunger are caused by a lack of affordable housing, low wages, high unemployment, a decrease in nearby affordable grocery stores and lack of public transportation. Currently, nearly 18,000 Vermont children are affected by food insecurity.
The study, led by College of Education and Social Services professor Bernice Garnett and College of Agriculture and Life Sciences PhD student Josiah Taylor, examined the impacts of Hunger Free Vermont's initiative to help schools provide breakfast and lunch to all their students at no charge to individual families. Since 2014, the organization has helped nearly 70 Vermont schools with higher percentages of low-income students access universal meals. As a result, more than 16,000 students now experience this more equitable school meals model.
Garnett and Taylor's findings suggest that providing free meals to all students, regardless of financial need for free meals, increases access to food by students who need it most while reducing financial stigma and stress on school communities and families. Specifically, the study revealed that staff members at these schools reported an increase in student readiness to learn and ability by schools to purchase more local food, a decrease in visible income disparities among students, improved social climate in schools and visible relief from financial stress among families and school administrators.
"What we found was that, for schools that are going through the process of accessing those free meals, it's working," says Garnett. 
Hunger Free Vermont Executive Director Anore Horton approached Garnett for the partnership and study after being impressed by her "understanding of some of the challenged faced by low-income students," who benefit most from universal free school meals. "UVM is our premier research university in Vermont, and I wanted this study to have that level of credibility to it. I wanted a researcher and a research team that really knew what they were doing, had the skills and those relationships with Vermont schools," adds Horton.
After securing support from Vermont Child Health Improvement Program, Garnett and Taylor began work on the study in 2017. They conducted interviews with participating schools and surveyed school principals, nurses, paraeducators, counselors, business managers and school meal program staff about their observations since implementing the programming.
While the study is currently being submitted for publication, the partners agree the data is compelling. "I think what the study showed was just how many amazing things we could accomplish if all the schools in Vermont were able to provide universal meals to all students at no charge to individual families. I think we'd see improvements in learning, improvements in test scores, improvements in our local farm economy, improved social climate in our schools, improved family engagement and many, many benefits from this one action," says Horton.
Ultimately, the partners hope one day to see the state of Vermont implement universal free meals at all students. Garnett believes Vermont is poised to lead other states and the nation in reducing childhood hunger in this way.
"Because we're a small state, we could literally eliminate child hunger in Vermont as opposed to other states with higher populations. We have the opportunity to do that," says Garnett. "This work was really exciting because it's one of those rare instances where research can hopefully inform policy at a state level."
Source: UVM 11.20.2018